Invisalign is an invisible dental aligner that is made from space age transparent plastic.
It allows Dr Neely to straighten your teeth without the need for traditional metal braces.
If you have been thinking about straightening your teeth but don't want to look like you have braces, Invisalign may be the right choice for you.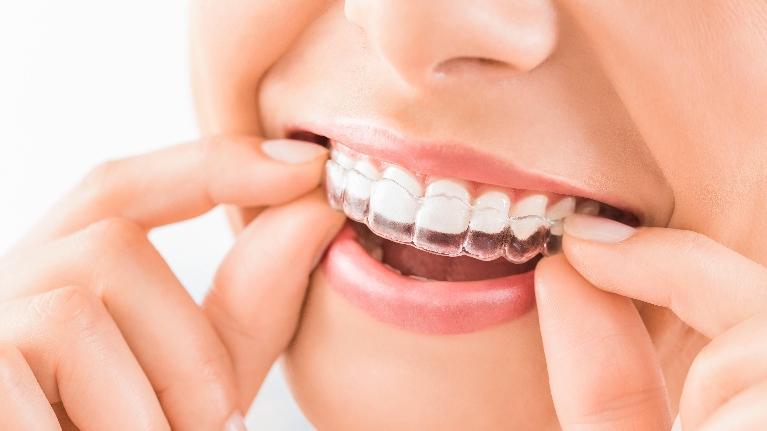 Request an Appointment
What Is Invisalign?
Invisalign is a series of removable and transparent aligners that are custom-made to fit your teeth. They are made up of a flexible plastic material that gently pushes the teeth into their correct positions. While traditional braces use metal wires or bands to push your teeth, Invisalign is an innovative option that provides similar results. While they look like a mouthguard, they are far more comfortable than traditional braces and have virtually no restrictions on your lifestyle. Most people might not even notice you are wearing them.
Who Can Use Invisalign?
Invisalign is suitable for patients who need to straighten their smile without having to go through the pain of having traditional braces put on. The procedure suits teenagers and adults alike, as well as those with certain medical conditions. Our team can perform an Itero scan for you to determine if you would be an ideal canidate for this style of orthodontic treatment. 
What Is the Procedure for Invisalign?
Dr. Neely will take digital impressions of your teeth using our Itero scanner, along with photos of your teeth and smile. 
Together with the Invisalign team, Dr. Neely creates a plan for your orthodontic treatment.
Once the plan is ready, you will have an appointment with Dr. Neely to review the treament plan and view your potential Invisalign orthodontic treatment results.
After approval of your plan, several sets of aligners will be produced and sent to Dr Neely.
We typically give our patients several sets of aligners at each visit.
Each set of aligners has to be worn for about one week before switching to the next set of aligners, which will gradually move your teeth into place until you achieve a perfect smile. 
It is recommended that Invisalign aligner trays be worn for 22 hours per day. Only remove your trays to eat meals, drink any beverages (other than water) and perform homecare. 
Dr. Neely will monitor the progress of your treatment every 4 to 6 weeks and make sure that all of the steps are being followed correctly, that the teeth are moving correctly, and you are having the progress and success that we are expecting at each step of the way. 
What Are the Benefits of Using Invisalign?
Invisalign is more comfortable than traditional braces as they do not have any sharp edges or wires that can hurt or irritate your gums or lips while wearing them. Additionally, they enable you to eat whatever you want with ease since they are removable. Our patients are able to perform excellent homecare without trying to work around all those brackets and wires. Towards the end of treatment, many of our patients choose to whiten their teeth using their aligners as custom bleaching trays! (just an added fabulous bonus)
Wish to schedule an appointment with us? Call Dentist Edmond OK at (405) 302-0100 or visit our office at 2408 NW 178th St, Edmond, OK 73012.